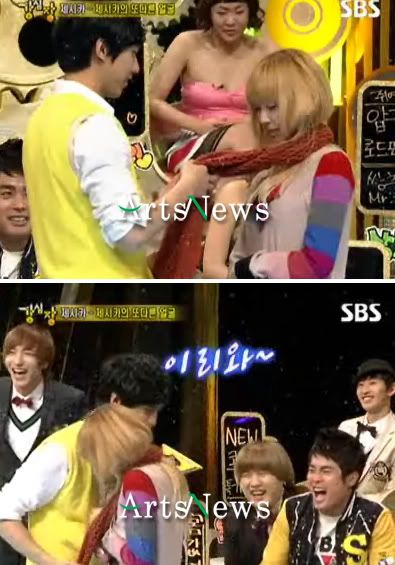 EDIT 2 — okay, I just finished watching this whole episode and the preview news releases were not only misleading, they were just flat out false.  seriously, can you report something that's not true?  anyway, if you see the entire Jessica-Seunggi part, she talks about how she dreams of having a scarf kiss someday.  And then the other guests chime in with their kiss ideals.  And then Etuk asks Seunggi, what's your dream kiss, to which Seunggi says that on the lines of what Jessica said, he thinks that would be ideal but where the guy then tugs the scarf and the girl towards him.  The audience goes nuts over that idea and then Hodong says we should reenact it.  So it wasn't that Seunggi said that he wanted to have a different kind of scarf kiss with Jessica, as reported in the news outlets, but that he wanted to have a different kind of scarf kiss in general.  ok, enough said on this!  I won't belabor this anymore! 
EDIT 1 –  On the set of Strong Heart filming. Per DClsg post, a Seunggi fan who was at this Strong Heart recording wrote:  "Regarding the scarf kiss reenactment… When Seunggi mentioned that about the scarf kiss and Jessica, they could've just gone on with the show, but immediately after he said that, a staff member rushed and got a scarf from somewhere and brought it back to the main set.  At that moment, Seunggi was totally surpised and nervous and shy about it… but being it was Jessica, it ended up being cute in the end."
****************************************************
The preview news about the supposed infamous scarf kiss between SeungGi and Jessica on Strong Heart ended up being, well just that… infamous and over the top.  over sensationalized and over exaggerated than the real thing.  surprise surprise!  anyway, the photo captures above are a bit misleading…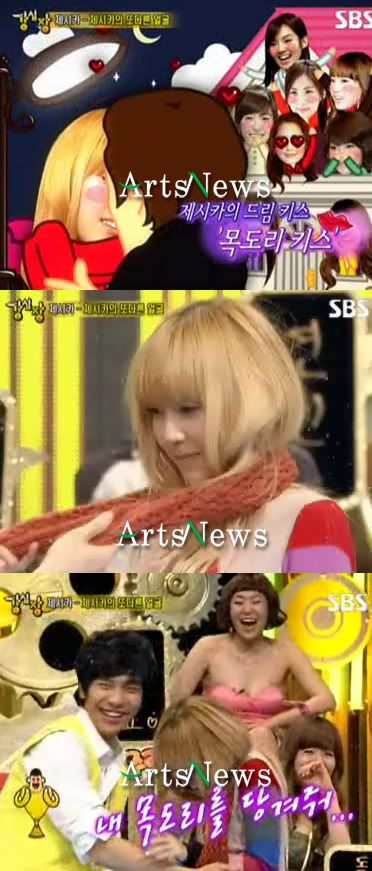 Check out the video for yourself… Can you call this a scarf kiss?
Come on, really? Agh, please Hodong, no more!
Check out the YT clip.
Filed under: Strong Heart Tagged: | Jessica, Lee Seung Gi, SH Recaps, SNSD, Video